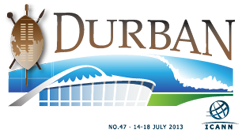 The governing organisation for Internet names and addressing, ICANN (Internet Corporation for Assigned Names and Numbers) holds its next public, international meeting in Durban, South Africa.
The meeting is held from the 14 – 18 July 2013 at the Durban International Convention Center (ICC).
The launch of the new gTLDs  are coming closer and nxt.se will participate at the meeting where we will also demonstrate our coming support for the new gTLDs in our registrar system and monitoring systems. Let us know if you are planning to attend the meeting and we'll schedule some time to sit down and talk visit our website.