Detecting threats in the domain name system
The landscape of Internet domain name abuse evolves rapidly. Declining advertising revenue and increased end user awareness has lead to new creative ways for brand squatters to monetize their portfolios of domain names. Brand owners are exposed to risks from brand dilution, reputation erosion, counterfeit, fraud and other scams. ICANN, the organization that oversees addressing policy on the Internet is at the same time growing the range of domain name extensions with thousands of new options.
A strong and scalable solution
The domain name watch and monitor system is built for portfolio managers and brand protection companies to assist in tracking and monitor their clients brands among almost 300 million registered domain names in more than 1200 different top and second level domains. The system provides a full range of user interface, API (for full integration) and white label versions.
Target audiences
Domain professionals
Attorneys, intellectual property consultants, brand agencies and other companies dealing with domain name and trademark issues.
Protect the use of your clients brands and make sure you can implement their brand policy in the domain name space.
Using our tools adds another subscription based business model to your offerings which will by itself sell additional services while offering top quality for your clients.
Registrars
With thousands of new domain extensions around the corner the marketplace for domain names are changing.
Expand your product offerings with domain name watch and monitoring services to extend your already established registration services. Let your customers register the main TLD's and the TLD's within their context of business and monitor the rest for infringements. Flexible API support integrates seamlessly.
Corporations
Companies are mainly referred to our channel partners that can provide lower fees and legal recommendations as a package offering, contact us for more information.
If you do have an inhouse legal team that protects your intellectual property or if you want to make sure that your service provider uses market leading technology, feel free to contact us.
Flexible data access
Graphical interface
Manage and explore your services and data from our standard interface, powerful real time features helps you to sort, filter and tag your data.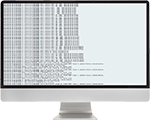 API
Choose between our realtime connector and REST API to integrate the watch and monitoring functionality to your own system.
White label
Create your own branded version of our user interface, complete with design and logotypes. We'll even integrate within your own domain name.